CHANUKAH PARTY! Sunday December 21
Home
>
Past Events
> CHANUKAH PARTY! Sunday December 21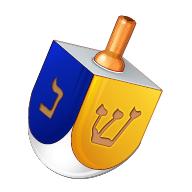 Did you know that CJC began with a Chanukah party?
Put this annual event in your calendar today.  All are welcome to come savor the tastes, sights and sounds of this special holiday.  Donation at the door.
Annual CJC Chanukah Celebration
Sunday December 21, starts at 5pm
Holy Family Church
1590 S. Cabrillo Highway
Half Moon Bay
Contact CJC: coastsidejewishcommunity@yahoo.com or 650-479.5252
FLYER LINK with all the details!
And here is an RSVP LINK
Featuring:
Latkes ~ always a treat!
CJC provides latkes, apple sauce and sour cream
Vegetarian Potluck ~ bring some food to share if you wish
Help us keep it GREEN!  Please bring your own plates, glasses, and eating utensils.
Music Jam ~ bring your voices & instruments
Jewish, Chanukah, Folk songs, we've got it all!
Community Menorah Lighting ~ bring your menorah and candles
It's the sixth night and we'll make a beautiful glow!
Story Telling ~ wait and see what books Sigal brings to share!
Hands-on Activities for the whole family
Arts and crafts projects for young and young at heart
Raffle prizes ~ have fun for a good cause!
See you there!