Celebrate Chanukah
Home
>
Past Events
> Celebrate Chanukah
Our Chanukah Party was lots of fun…..here's our spinning dreidel Diann with several Hannukiot, a.k.a. Menorahs.
Annual Chanukah Party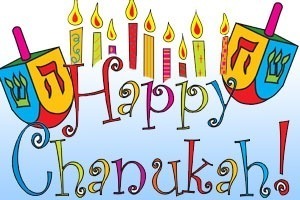 Sunday, December 13, 4-6 pm at Holy Family Church, 1590 S. Cabrillo Hwy,
Half Moon Bay
CJC is hosting its annual Chanukah Party, designed for the whole family and free for everyone (donations at the door happily accepted).  RSVP not necessary. We welcome people from all faith traditions, and encourage interfaith families to attend.
4:00 pm – Family and children's activities begin
4:45 pm – Candle lighting
5:00 pm – Vegetarian potluck (latkes provided)
Savor the tastes, sights and sounds of Chanukah! Games and crafts for the young and young-at- heart; Chanukah storytelling, singing, and dreidel games. Vegetarian pot luck dinner; CJC will supply the traditional latkes. As always, we try to "keep it green" and encourage participants to bring their own plates and utensils.
This will be the last night of Chanukah, so bring your Hanukkia (Chanukah menorah) and all the candles. The community candle lighting is always beautiful and inspiring.
Chanukah Help!
As with everything we do, volunteers make our events happen.   Please come early (3:00) or plan to stay late (until 7:00) for a little set up/clean up help for our Party. You know we appreciate it. If you've never volunteered for an event before, now's your opportunity to have fun and get to know others while helping make our party successful. RSVP to let us know when you can help (before or after) –
email
or call us (650.479.5252). Many thanks!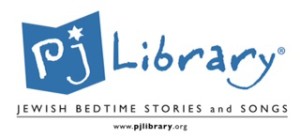 Co-sponsored by PJ Library® of San Francisco, a program of the Jewish Community Federation that sends free Jewish books and music monthly to children under the age of 8. Click here to sign up for PJ Library.
Completed Chanukah Events:
Half Moon Bay Night of Lights Parade on Friday, December 4th
Chanukah Teach-In on Sunday, December 6th
Night of Lights Parade – Friday, December 4th
We began our Holiday celebrations by marching in Half Moon Bay's 
Night of Lights
Parade.
Mike Polom constructed a giant menorah for us to show off in the parade.  Our B'Nai Mitzvah students and their families gathered for dinner before the parade.
We hadn't marched for many years — thank you to everyone who showed up to put some Chanukah into this parade!
Chanukah Teach-In
On Sunday, December 6th at 5pm in Pacifica, Rabbi Jane led a Chanukah "Teach In". Read Rabbi Jane's article about Chanukah in the November 30 Update.  She refers to Chanukah as the "Festival of Light…. and Dark", and concludes by saying:
It is interesting that in Jewish communities which existed in Muslim or Hindu countries, Chanukah was a very minor holy day.  However, where Jews lived among Christians, Chanukah took on a larger role in terms of Jewish identity.  
Please join me in Pacifica on Sunday, December 6 to study a little about Jewish identity and Chanukah in the European Diaspora.
During the Teach-In, Rabbi Jane mentioned a recent event:  the discovery of the Greek Acra Fortress conquered by the Maccabees.