Rosh Hodesh – The New Moon – Counting and Recounting
Home
>
Past Events
> Rosh Hodesh – The New Moon – Counting and Recounting
Why does Passover come "early" some years and "late" on others?  Each year and month begins with the new moon, and the calendar readjusts annually to stay in harmony with the solar seasons.  We know that the beginning of each year falls on the first new moon in autumn, and is a major holy day – Rosh Hashanah.  But many of us don't know that each Jewish month begins on the new moon and is the semi-holiday of Rosh Hodesh.  Rosh Hodesh celebrations include special blessings and prayers. The medieval Jewish mystics (Kabbalists) added some esoteric meditations to the Rosh Hodesh ritual.
There are a number of stories (midrashim) as to why Rosh Hodesh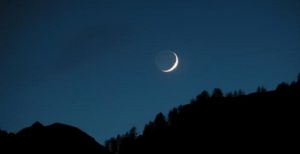 is particularly connected to women.  Our Sages teach: "The Holy One, blessed be, gives women their reward in this world and the world to come. What reward did God give them in this world? That they should observe the new moons, and what reward will God give them in the world to come? They are destined to be renewed like the new moons, as it is said: 'Those who fulfill their years with good things; their youth is renewed like the eagle.'" Modern Jewish feminists have created contemporary Rosh Hodesh rituals.
In addition, we are also in the period of the Omer – the counting of days between Pesach and Shavuot.  As with Rosh Hodesh, both the Kabbalists and contemporary feminists have created new ways to observe the Omer.
On Friday, May 6, we will celebrate a short Shabbat service centering on Kabbalistic and feminist Rosh Hodesh prayers, blessings, meditations and rituals, and we will observe the counting of the Omer. Please join the community for a spiritually uplifting and thought provoking Shabbat observance.
5:45:  vegetarian potluck dinner
7:00 service starts, followed by dessert oneg
RSVP to Dave so we know how many people will be attending;  he'll provide directions.