Happy Chanuakah!
Home
>
Past Events
> Happy Chanuakah!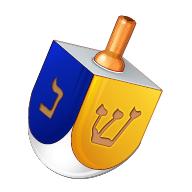 With Chanukah beginning on December 24th, we decided to celebrate early this year.  The Latkes were yummy and story telling enlightening.  We hope you enjoy all your holiday celebrations with family and friends.
Pre-Chanukah Party
Coastside Jewish Community began with a Chanukah party, and we are celebrating our 25th Silver Anniversary on the Coast as we host this year's Chanukah Party. Designed for the whole family, the party is on Sunday afternoon, December 18, from 4-6pm at  Ted Adcock Center, 535 Kelly Ave., Half Moon Bay. Donations at the door appreciated.
Family and children's activities start at 4, followed by Menorah lighting, latkes, dreidle playing, singing, etc. Rabbi Jane Rachel Litman will be on hand to lead family activities and more. A Chanukah party is how this group first began 25 years ago.  Come for the Latkes, stay for the fun. Help us celebrate our 25th Silver Anniversary!
CJC invites everyone to come and experience this holiday, which honors freedom from oppression. We invite people from all faith traditions, and encourage interfaith families to attend.  The Coastside Jewish Community celebrates with spirited singing and a retelling of the ancient story which is the foundation of this holiday.  Also planned are games and crafts for the young and young at heart, including Dreidel games. CJC volunteers will provide latkes and all the trimmings for this yummy part of the holiday celebration.
This gathering is before Chanukah actually begins, but participants are still invited to bring their Hanukkia (Chanukah menorah) and candles.  The community candle lighting is always beautiful and inspiring.
Every year, Jewish people around the world celebrate Chanukah, also called the Festival of Lights.  Jews commemorate a triumph of determination and faith over oppression and domination.  This event happened over 2,300 years ago but its themes have universal resonance today.
(650) 479-5252 or www.coastsidejewishcommunity.org