About Us
From the very beginning, Coastside Jewish Community has always been a welcoming spiritual home for people of all cultural backgrounds, religions (many of our member families are interfaith), sexual orientations and identities. Genu
ine diversity and inclusion are at the heart of our values as a community.
We were blessed to partner with the National Welcoming Synagogues Project and in 2012-2013 we worked with Rabbi Dev Noily on an internal, Torah-based learning process about how our commitment to LGBT inclusion is rooted in core Jewish values.
Social and political activism is our hearts and feet.  Many of our celebrations and activities have components of Tzadaka and helping.  We'd love to have more such events, and could use a S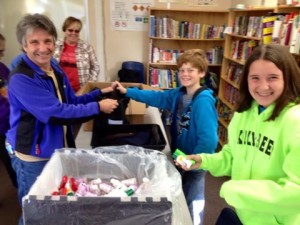 ocial Action Chair (membership on our Board of Directors optional).
Interested?  Contact Cathy Hauer, president of our board of directors.
We are inspired to share our learning with CJC and to recommend new and creative ways for CJC to express our welcome in more visible, dynamic ways.
Artwork by Nancy Margulies